Dear Winston
- You need need a grooming session as of last week. We are horrible parents who keep pushing back your grooming appointments. But this weekend we will take you to get all fresh and squeaky clean because Sunday you will be leaving us for a whole week. We'll be in California while you be enjoying time with your grandparents. I'm going to miss your sweet kisses. Dear work - You're killing me but it's okay because vacation is SEVEN days away now and I'll come back even more pumped and ready to tackle any new challenges, but until then...
Dear God
- Please (continue to) give me strength. You have been so good to me with giving me countless signs that I will overcome every hurdle tossed my way. Whether it be through song or verse, I know YOU are by my side every step of the way.
"Have I not commanded you? Be strong and courageous. Do not be afraid; do not be discouraged, for the LORD your God will be with you wherever you go" Joshua 1:9
Dear California
- I will be seeing your beauty next weekend and I cannot wait to dip my toes into Venice Beach.
Dear baby sis
- Good luck with your PCAT next week. You've been studying your butt off and I knew you are one step closer to pharmacy school.
Dear Texas heat
- I hate you so much.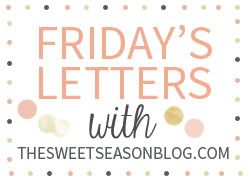 I plan to have a chill weekend (with a drink or two here and there) and start packing, so my Back That Azz up jam is very chill. I'm feeling country. I'm obsessed with Eli Young Band's new song "Drunk Last Night" It's blaring in my car every morning on my way to work. (As if I got a little drunk the previous night but we all know post grad life is lame and that no longer exists.)