Happy Saturday! It's April, meaning it's my birthday month. The big 25. A quarter of a century. So, I figured I would make a list of goals for this month.
I have tried this whole monthly goals thing before and it never really worked out. This time I made sure my goals were realistic because let's be real - we all make a goals list that we know we probably will never do. For example, back in October (because that's how long it's been since I actually made a monthly goal list) I said I wanted to complete at least one DIY project from Pinterest. Um, no. I don't have time for that. But I will include at least ONE
unrealistic-but-I-really-really-want-to-do-it
goal.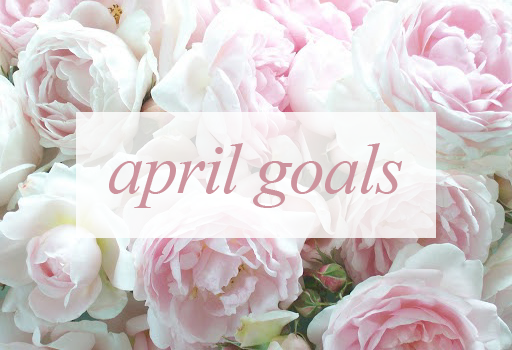 APRIL GOALS //
+ Finish all final papers in a timely manner. No procrastination.
+ Do not stress. Pray more, worry less.
+ Accept the fact that I will be a quarter of a century old this month and embrace it.
+ Schedule a spa day with my sister.
+ Develop photos from past vacation trips. (Maybe create a scrapbook. Now, that part is probably unrealistic.)
+ Go to a bookstore and buy a "good read" book. Any suggestions?
+ Do some major spring cleaning.
Unrealistic-but-I-really-really-want-to-do-it goal:
+ Sign up for a gym membership. No more excuses.
April Goals are already off to a good start because just today I already had a spa day with my sister. We spent our Saturday morning getting a nice, very relaxing spa pedicure. Checked one off the list already!
What are your goals for this month?