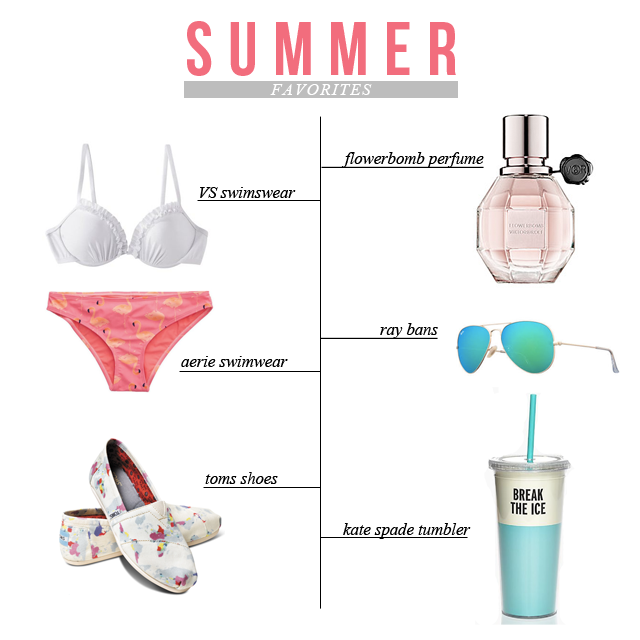 SWIMWEAR
| I like to mix and match my swim tops and bottoms, so when I found these flamingo swim bottoms from aerie through Megan from All That Glitters, I jumped with excitement. How can you not love flamingos? I thought these flamingo bottoms would go perfect with a white swim top that I already have from Victoria's Secret.
SUMMER PERFUME
| Flowerbomb is my current go-to perfume for summertime. I love it. I have been dying to get my hands on this for months and thankfully my parents bought it for me for my birthday back in April. I have been waiting for the summer to start wearing it.
SUNGLASSES
| I cannot find my Armani Exchange sunglasses that my boyfriend bought me. (Shh! Don't tell him. He'll flip out.) I'm seriously going to freak out if they're really lost forever. Meanwhile, while looking for them, I've been on the search for new sunglasses. Ray Bans! I feel like aviators would be the perfect sunglasses for summer.
SHOES
| I love my red TOMS shoes, but I am in serious need of some new ones this summer and these are perfect. I couldn't decide if I wanted TOMS wedges or stick with regular TOMS shoes. I think, for now, these will work. Now, to find my size.
INSULATED TUMBLER
| This Kate Spade insulated tumbler is perfect to keep my drink nice and cold when laying out by the pool. I love everything Kate Spade, so of course there had to be at least one Kate Spade item on my summer favorites list.
Don't forget to join the fun and link up for Listed Tuesdays with Erica Jacquline - happy tuesday!
Labels: style