Happy Weekend! I needed to take a break from finals to blog a little otherwise I'm going to go crazy. I am so ready to turn in these final papers and be done, for like a week and then it's time for summer school. No break for this girl!

Last year I blogged about small closet space organization and shared some tips on how to make a small closet work. I have reorganized my closet since then and somehow managed to make more room for clothes. I think I had shared a photo of my closet and talked about how I needed to win the lottery to buy more organization shelving to reorganize it, and I had a few ask to make another post on small closet organization. Well, here it is: how I organize my small closet and make it work.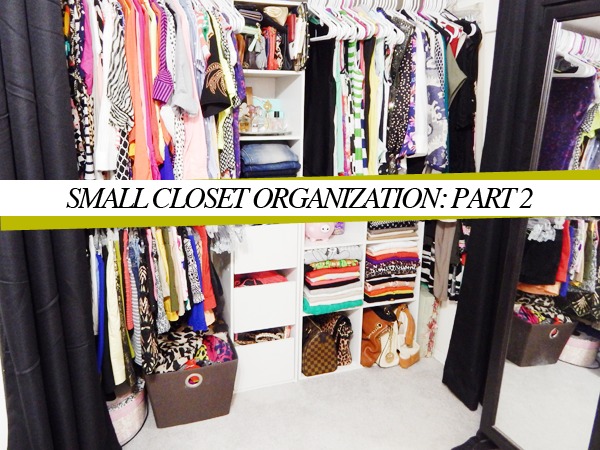 SMALL CLOSET ORGANIZATION TIPS
Target is your best friend.
It really is. Most of the shelving in my closet is from Target. I bought a 3-shelf cube and a 3-drawer tower, stacked them up one on top of the other, and placed it in the middle of my closet to use as a divider. It looks much cleaner having it in the middle. I use the shelves to store my small clutches, wallets, perfumes on a
mirrored tray
(which I am absolutely obsessed with) and my jeans. The drawers I use to store my swimsuits, hair products, and belts & accessories. I'm sure IKEA has some good closet shelves, too, but the nearest IKEA for me is in Round Rock which is a good hour and 45 minute drive.
Make space count.
I'm a cardigan kind of girl. I have a lot of cardigans that take up a lot of space. There was a lot of free space under my hanging shirts and cardigans so I decided to head back to Target and buy a 9 cube shelf and use that space wisely. I fold up all my cardigans and sweaters there, making room to hang more clothes. I love how neat and organized it looks that way. I can see what I have. I also use the extra cube space for my purses and fold up my dress pants.
Keep the shoes in their boxes.
You can't see the boxed shoes in these photos but they're on the top shelf, stacked up. Personally, I like keeping my shoes in their boxes. It looks much more organized and keeping the shoes in their boxes keeps them from getting damaged or marked up from other heels. The only downside is that I'm short and I hate having to use a stepping stool every time I need a pair of shoes. It's a hassle having to grab them from the top shelf, especially when you don't know what shoes you're wearing and you're constantly switching out your shoes and outfits.
Storage bins aren't so bad.
I have tried everything with figuring out how to store my scarves. From hanging them behind my door to even hanging them on actual hangers in my closet. I finally found a solution: a storage bin from Michael's. I find storage bins great for storing scarves. Sure, you have to dig through the bin for a scarf but it works for me.
Keep it clean.
It won't look nice and organized if you don't keep it that way. I'll admit, sometimes I don't everything back where it goes and my already small closet will start to look like a mess. I try to keep everything organized and in place to make sure that when I come home from a day of shopping, I can easily put my clothes away.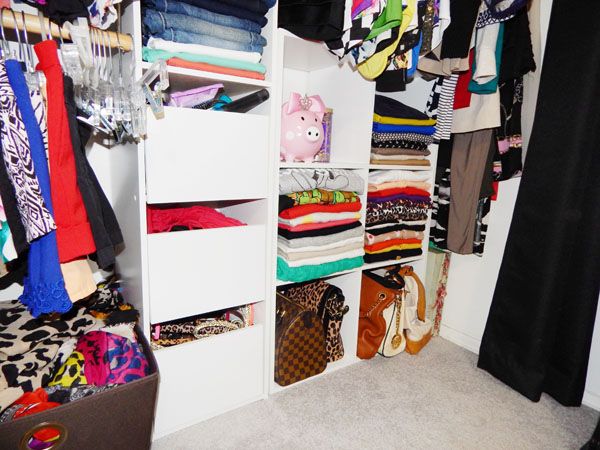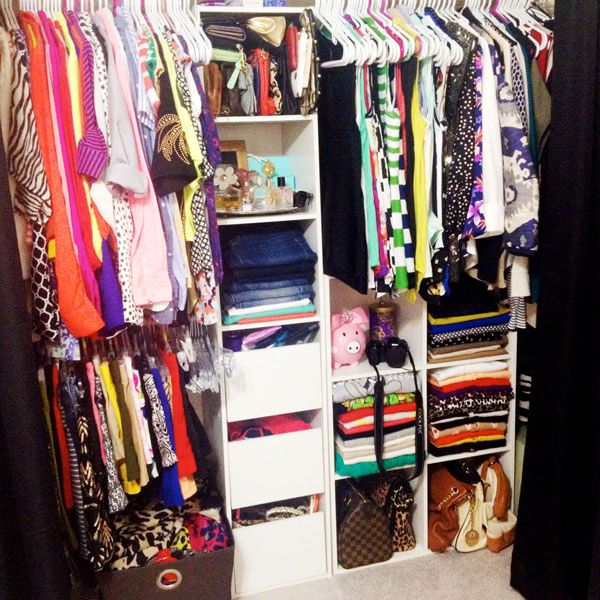 The only problem I'm having storing (other than the shoes being on the top shelf) is dresses and maxi skirts because one side has the double hanger bar and the other side has the shelf at the bottom. Any tips?
Labels: Organization